Put simply, an OSD is a system used for stormwater detention before gradually discharging it into the city's sewer system. OSDs are designed to lessen the impact of rainy seasons on water systems, allowing councils to better deal with stormwater at a controlled rate. Making use of OSDs prevents current sewage systems from becoming overwhelmed and guards settlements from the dangers of flooding.
OSD – Precast vs In Situ
There are two distinct types of onsite detention tanks, which are precast and in situ. The fundamental difference between the two is in their manufacture. Where precast OSD tanks are made away from the installation site, in situ tanks are built in the same location where they are going to be installed. In situ tanks, also known as "block and slab", are often a part of the structure of a building, rather than being a separate tank.
Save money with precast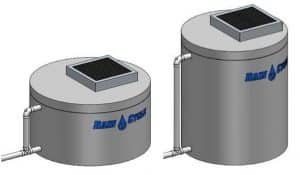 While there are several factors that differentiate between the two tanks, precast tanks have a clear advantage in terms of cost. When you make your OSD tank on-site, you need to have trained staff on hand to complete the process, and health and safety checks must be carried out in order to ensure that the worksite is safe before installation. By comparison, precast tanks are simply created elsewhere for you and installed as quickly as possible once they arrive.
Fabricated in advance to your specifications
Fabrication isn't a simple process and isn't completed to basic templates. Every space is different and has varying requirements, so you may have specific requests for your OSD tank regarding the capacity you need and the nature of the space it's filling. Expert fabricators are able to listen to your brief and deliver an OSD tank designed specifically for your property, so you can rest assured that it will fit the space and hold the stormwater you need it to.
Placed directly into the excavation site
Thanks to the tailored nature of your OSD tank, installation is an extremely simple process. Your excavation site, if dug correctly, will be created specifically for your OSD tank, which is able to slot right in. From this point, you simply need to install the tank by connecting it to the wider sewage network and the property's plumbing. Prefabricated OSD tanks are incredibly simple to install, whereas in situ tanks need to be built very precisely to suit the environment they sit in.
Contact Rain Cycle today
If you're interested in getting an OSD tank installed on your property, contact us today to find out more about the prefabricated OSD tank services we have to offer. You can call Rain Cycle on 1800 006 176 or visit us at: raincycle.com.au.
We cover all Sydney Suburbs, South Coast, Southern Highlands, Riverina, Laguna, the Blue Mountains and Hawkesbury, Bateman's Bay, North and Mid North Coast, Nowra, Narooma, Balmoral, Mallacoota, Cobargo, Avondale, Glenn Ines, Glenmore, Tarago, Mogo, Albury, Faulconbridge, Maraylya, Torrumbarry, Sherbrooke, Little Hartley, Strathdickie, Linden, Bowen Mountain, Cattail, Kyogle, Bryon Bay, Murwillumbah, Lismore, Yamba, Grafton, Snowy Mountains, Evan Heads and surrounding areas.