Most people know what a rainwater tank is, but to give you a more detailed explanation, a water tank is basically a big container which can be made in many different types of materials, where you can store water. This water is intended for various applications, such as drinking, irrigation, firefighting, manage stormwater, agriculture, food preparation and other various uses.
Water is one of our most valuable natural resources, but sadly, people often fail to harvest it properly. In recent decades the importance placed on water as a essential resource is apparent – for our survival, plants and animals along with its scarcity, has put enormous and worldwide focus on the resource. In many places, particularly in the dry regions of Australia, there is limited supply of water.
Water tanks that are well maintained can give people a renewable supply of clean and odourless water that will serve various purposes, as mentioned above. In some areas, water tanks can be the principal source of household water.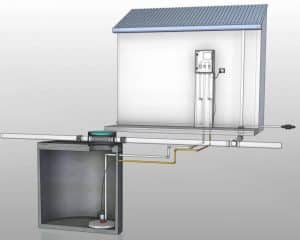 Rain Cycle produces concrete water tanks in various shapes like round and square that can fit neatly into your driveway; and in various capacities, from 4,000 litres to 21,000 litres. However, if you need larger sizes, we can also build them to your specifications. Concrete tanks can also be cast in your premises and if you want your tank built – on site or pre-cast – they are engineered to be load bearing, capable of being placed under ground.
Several materials are used in the production of water tanks, such as plastic, steel, stainless steel, fiberglass, and concrete. While all these materials can be suitable, Rain Cycle supplies only concrete water tanks, which we manufacture, according to their intended purpose of storing water.
Concrete water tanks have been in use in the rural areas of Australia, for many years now and they are becoming very popular in the city suburbs. These tanks are pre-cast and can be placed either under your driveway, your back and front yards. Underground concrete tanks are ideal in small places that are tight for space and would not be able to accommodate tanks, if placed above ground.
Concrete water tanks are hard wearing, in that they can stand any extreme pressure or damage from climatic conditions. These concrete tanks are poured into seamless mold and there are plasticisers added to these tanks, to provide more strength and prevent leaks. A good quality concrete water tank can last several decades – we have a 10-year guarantee RC warranty on the tanks and 2 years on pumps / internals.
Compared to fiberglass or steel tanks, our concrete water tanks are easy to repair, as any crack can be remedied by certain sealants, depending on the location and size of the crack/s.
Speaking of water quality, water inside a concrete water tank maintains good quality and can be used as drinking water. These tanks keep the water cooler than other types of water tanks, so there is no likelihood that it will invite bacterial growth. Even if they are positioned above ground, light is prevented from penetrating its walls, allowing your water to stay fresh, potable, and pleasant to taste.
Contact us for a fast quote at 1800 006 176 or visit us at www.raincycle.com.au if you need additional information about our wide range of water tanks. We will be happy to help and also provide any advice.
We cover all Sydney suburbs as well as the regions of South Coast, Snowy Mountains, Southern Highlands, Riverina, Blue Mountains and Hawkesbury, Laguna, North and Mid North Coast, Bateman's Bay, Nowra, Mallacoota, Narooma, Balmora, Cobargo, Glenn Ines, Avondale, Glenmore, Mogo, Targao, Torrumbarry, Albury, Faulconbridge, Maraylya, Sherbrooke, Strathdickie, Little Hartley, Linden, cattail, Bowen Mountain, Murrwillumbah, Kyogle, Bryon Bay, Lismore, Evan Heads, Yamba, Grafton and surrounding areas.