An on-site detention tank or an OSD, is a temporary water storage solution. It is done by detaining rain water and discharging it into the council drainage areas. There are several advantages of using an on-site detention tank such as:
Reducing the use of water in a public water supply system
Reducing yearly volume of run-off water
Capturing the first runoff, thereby improving the quality of water
Before you install your very own OSD, there are certain rules to be kept in mind for its proper functioning and maintenance.
Firstly, ensure you hire a licensed engineer to design the OSD system. You must also make sure the system is complete with all its components like filters, tubes, overflows, orifice plates and trash screens. In addition to this, it must have the ability to store all the runoff rainwater. Most city councils will have guidelines for the design and installation of OSD tanks. Ensure, you are aware of these and comply accordingly.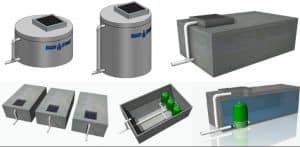 There are two main guidelines to keep in mind for designing OSD systems: PSD (permissible site discharge) and SSR (site storage requirement). PSD is the maximum water discharge that an OSD can handle, while SSR is the minimum volume of water required for temporary storage. It is important to discuss these values with a qualified civil engineer, before embarking on your OSD journey.
There are also certain requirements for the tank that you have to follow. These are:
Volume of tank: The volume of water tank depends on the site of construction and whether it is a commercial or residential establishment.
Backup water supply: A backup water supply must always be provided for instances, when the tank becomes empty.
Contamination: Tanks stored below the ground must clearly be marked as 'contaminated'.
Piping: The pipes used must be coloured and clearly marked. Similarly, taps must be marked for easy identification.
To ensure you follow the proper legal guidelines, it is better to consult with an expert company like Rain Cycle. At Rain Cycle, we design, construct and install tanks of all sizes, whether commercial or residential. All our precast concrete tanks are locally made in Australia. Our workers are skilled and licensed in tank design and installation. We are known to build durable and reliable tanks, which will last for the years to come. You are free to ask us, whatever you have in mind with regards to OSD tanks.
You can contact us on 1800 006 176 or email us at sales@raincycle.com.au. You can also visit us at: www.raincycle.com.au.
Our services cover all areas and surrounding regions of Bateman's Bay, South Coast, Snowy Mountains, Little Hartley, Mallacoota, Glenn Ines, Albury, North and Mid North Coast, Southern Highlands, Strathdickie, Blue Mountains, Mogo, Bryon Bay, Cobargo, Sherbrooke, Hawkesbury, Murwillumbah, Laguna, Nowra, Evan Heads, Torrumbarry, Avondale, Balmora, Faulconbridge Riverina, Targao, Bowen Mountain, Linden, Lismore, Glenmore, Yamba, Kyogle, Maraylya, Cattail, Narooma and Grafton in Australia.