Urban development has presented the need for stormwater drainage, as all the stormwater formed due to rainfall is not getting infiltrated into the ground. Here, the function of OSD tanks comes into the forefront, wherein the stormwater can be sent into the mains in a controlled manner. On-site detention tanks are very much essential to be installed in places where there is heavy rainfall or where the topography of the place makes way for flooding.
If stormwater is not properly managed, then it may result in erosion. Unlike wastewater, storm water is not treated, before being discharged into the seas and the major waterways. Hence to house the storm water temporarily and to send it to the mains in a controlled manner, on-site detention tanks are used. Many councils in Australia compulsorily require homes to have an OSD tank on their property, as the automatic flow of stormwater into the main reservoir can create health hazards to humans and other organisms at large. It's mandatory for new structures and when a home or commercial place is being renovated.
Here is an insight into the 2 types of On-site Tanks available: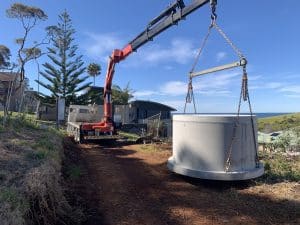 Underground Tanks – This type of tanks is made of concrete and concealed under the driveway. The main thing in the maintenance of these underground tanks is to see to it that it's discharge outlet, which controls the flow of the storm water and the trash screen, both don't get clogged. So, this inspection should be done from time to time, as if not done, will create more harm than good. You should also hire a professional to do this inspection, as it might be difficult to access this below the ground tank at certain places. If the inspection is not done properly, you may realise the difficulties when the rains set in and at that point, nobody will be able to help, as the large quantity of stormwater will make the task impossible. Hence, instead engage a company, who's reliable, experienced, and trusted for the installation as well as the maintenance of your OSD tanks.
Aboveground Tanks – A good on-site detention tank architect should be capable of blending your aboveground on-site tank with your landscape, in such a way that it doesn't stand out. The aboveground tank should seamlessly be integrated into your garden's surroundings. A good architect will know various ways of doing it. So, employ one who gives high value for your money.
If you are looking for a company who deals with onsite detention tanks in the New South Wales area, then call us on 1800 006 176 or visit us at: raincycle.com.au, We have 30 years of experience in onsite and rainwater tanks.
We cover all Sydney suburbs, South Coast, Southern Highlands, Riverina, Laguna, Blue Mountains and Hawkesbury, Bateman's Bay, North and Mid North Coast, Nowra, Narooma, Balmoral, Mallacoota, Cobargo, Avondale, Glenn Ines, Glenmore, Tarago, Mogo, Albury, Faulconbridge, Maraylya, Torrumbarry, Sherbrooke, Little Hartley, Strathdickie, Linden, Bowen Mountain, Cattail, Kyogle, Bryon Bay, Murwillumbah, Lismore, Yamba, Grafton, Snowy Mountains, Evan Heads and surrounding areas.