In the world of urban planning, water tanks are an essential consideration. Excess rainwater has to go somewhere and using these tanks can reduce the risk of flooding, keeping your property as safe as possible. Read on to find out more about the methods used in building tanks for residential and commercial use.
Why are rain water tanks important?
Before getting into how we make waterproof concrete water tanks, properly understanding why rain water tanks are so common is important. Companies use rainwater tanks as a quick and easy way of collecting up water from precipitation. Rather than overflowing sewers in the case of monsoon-esque downpours, catching the water in tanks and distributing it to the sewers over an extended period of time is a better way forward. This means that metropolitan systems aren't overwhelmed by the forces of nature, and companies do their part in keeping cities running as expected.
How do we build waterproof concrete water tanks?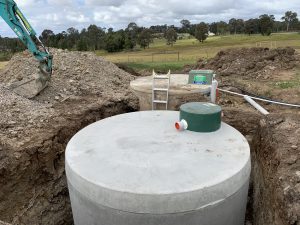 Building concrete water tanks is a complex process, requiring several stages to get right. Thorough planning is important to ensure complex designs will work on your property. This is half of the work, as good planning also ensures that the right materials and equipment are in place at the right time.
But the building of the concrete water tank itself is just as important. Seams and joints are the most common areas where waterproofing tends to fail, so building a concrete tank with minimal seams is essential. Whether on-site or away from the property, accurate creation and assembly of a tank means that you can rest assured of complete waterproofing. Once the planning and building stages are complete, the tank is finally placed in its location, keeping your property safe from water damage.
Why use concrete?
There are a few different reasons to use concrete in the creation of water tanks. The first is that concrete is an extremely hard material. This means that it protects against flowing water, minimising any corrosion in the system and ensuring that you don't need to replace or repair your water tank for the foreseeable future.
Furthermore, using concrete ensures a high level of flexibility. Starting as a liquid, manufacturers can form concrete into the shape you need. If your space or building is an unusual shape, concrete tanks are available in tailor-made designs to suit you and your property. Concrete is a flexible yet sturdy material, making it essential for water storage.
Try Rain Cycle
If you're looking for a company who has the experience, knowledge and track record with onsite detention tanks, then contact us at Rain Cycle on 1800 006 176 or visit us at: raincycle.com.au. We have 30 years of experience in onsite and rainwater tanks.
We cover all Sydney Suburbs, South Coast, Southern Highlands, Riverina, Laguna, Blue Mountains and Hawkesbury, Bateman's Bay, North and Mid North Coast, Nowra, Narooma, Balmoral, Mallacoota, Cobargo, Avondale, Glenn Ines, Glenmore, Tarago, Mogo, Albury, Faulconbridge, Maraylya, Torrumbarry, Sherbrooke, Little Hartley, Strathdickie, Linden, Bowen Mountain, Cattail, Kyogle, Bryon Bay, Murwillumbah, Lismore, Yamba, Grafton, Snowy Mountains, Evan Heads and surrounding areas.