In different areas in Australia, storms and heavy rain can cause a lot of storm water to come about, thereby increasing the probability of flooding. This is aggravated by expanding residential, commercial, and industrial buildings that put pressure on the current underground drainage facilities. Therefore, the councils require new home builders; to share the responsibility of flood control by requiring them to install concrete water tanks in their properties, to catch and detain the storm water.
These are called detention tanks, and these are different from traditional rainwater tanks as they have special valves that allows slow discharge of water into the drains, over time. This system can prevent flooding from happening and is required for compliance to council requirements on certain sites. This onsite detention tank can also be incorporated into a combined rainwater/OSD tank so you take care of both requirements in a single tank.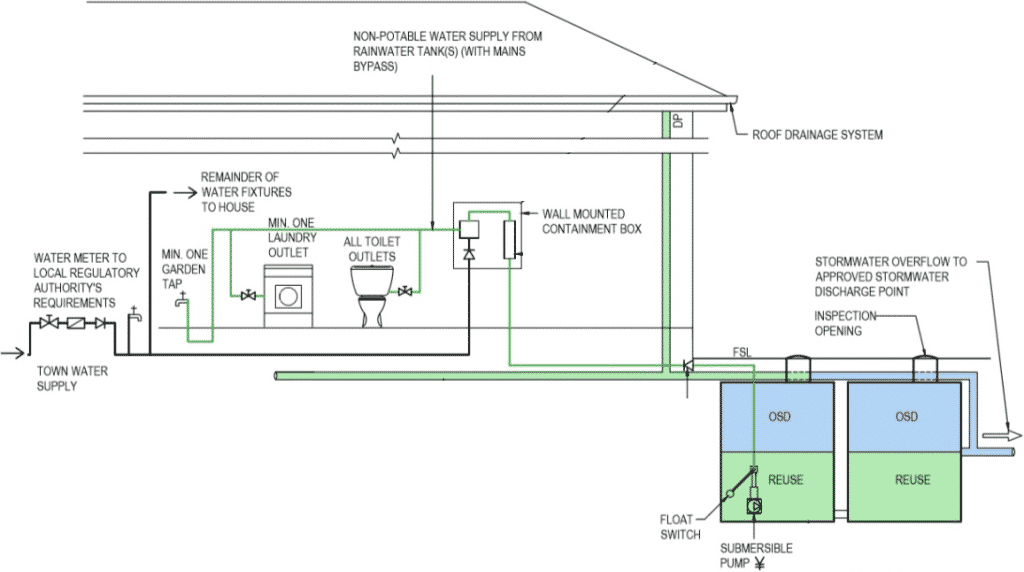 You can get in touch with Rain Cycle for all your Onsite Detention Tank and Combined Rainwater/OSD Tank solutions. We are a designer and manufacturer of different sizes of water tanks for retention/detention purposes. For your construction projects that need quick installation of a water tank, Rain Cycle has a perfect range of storm water detention systems that we can deliver to your site, customised to suit your specific requirements.
Our rainwater tanks and detention tanks are all made of high strength concrete and they are designed to be robust, seamless, easy to install. When put underground the tank won't be visible, and you can walk or drive over it. Thus, you get all the benefits of a water tank, without losing your precious space while maintaining protection.
Whether used to hold the storm water and slowly release it to the sewer or for your domestic use, the practical benefits of water tanks are obvious. Please contact us for a fast quote or recommendations and advice about storm water detention systems for your new home. Call us on 1800 006 176, or visit us at www.raincycle.com.au. Besides our unrivaled quality products and service, Rain Cycle also maintains strong focus on health and safety. It means that we are looking after health and safety of our personnel and visitors, in our commitment to always meet the OH & S guidelines.
We service all suburbs across Sydney, Southern Highlands, North and Mid-North Coast, , South Coast, Snowy Mountains, Blue Mountains and Hawkesbury, Riverina, Laguna, Narooma, Bateman's Bay, Nowra, Cobargo, Mallacoota, , Moruya, Mogo, Dural, Glenn Ines, Werrington, Balmoral, Kenthurst, East Kurrajong, Lowe MacDonald, Braidwood, Grose Wold and the surrounding areas.