Before you can build a new home in regional NSW and other surrounding regions that are prone to storms and heavy downpours, you will need to meet specific council requirements in relation to the retention of water on your property. One of these requirements is the installation of OSD tank/rainwater tank on your property. OSD is an acronym which stands for On Site Detention Tank.
What is the purpose of the requirement by the Councils to new property owners? The simple answer is, they would like every home to have a system, where the storm water that falls on the property will be captured. The point here is not to retain the water, but to release it at a rate that is slower than the usual rate. This process should result in the reduction of flooding problems in your local area, so as to enable the load of water runoff to become more manageable.
Rain events can generate a lot of storm water, which is made worse by the rise of residential, commercial, and industrial buildings in the area, putting pressure on the current underground infrastructure. Improving the current drainage system to accommodate the increased flow of storm water is difficult to achieve, due to space and cost limitations. As a consequence of this load being placed on the new homeowners, the local council or shire legislates for them to install On Site Detention Tanks on their properties.
How does an OSD work? On Site Detention tanks are planned for; during property development. Once installed, it can capture the storm water and hold it temporarily, after which the water will be released through a small opening, at a controlled rate. This will lessen the risk of flooding.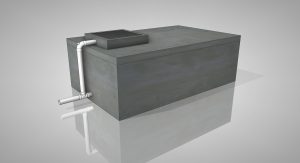 Different councils have different requirements on the OSDs. So, before you work on the installation, it would be better to discuss your project with your local council or contact a trusted supplier.
Rain Cycle is an expert on rainwater tanks and On-Site Detention tank systems. Our team can provide expert advice regarding the design and installation, and what's more, in obtaining the necessary permits from council. We supply water tanks in all sizes and capacities. Our precast concrete tanks are designed to be positioned underground, under driveways and garages, a great space saver. However, if you want the OSD tank to be placed above ground, we can do that too.
The tanks built by Rain Cycle are reliable and durable, so they will service you needs into the future. We have on our professional team, skilled and experienced water tank specialists and can install the right system to suit your property.
So, if you have decided to go ahead with the installation, contact us either for consultation or to request a free quote, budget price or information. We will be more than happy to supply our products and services and work with you on your project, assisting you in what we do best – the design, manufacture, and installation of water tanks. We will even help you obtain your local council's approval to take this load from your shoulders. You can call us on 1800 006 176 or visit us at www.raincycle.com.au, if you need more information on all our services.
We cover the areas of Sydney suburbs, as well as the regions of Mallacoota, Riverina, Yamba, Snowy Mountains, Laguna, South Coast, North and Mid North Coast, Southern Highlands, Bateman's Bay, Blue Mountains and Hawkesbury, Nowra, Balmoral, Glenn Ines, Avondale, Mogo, Glenmore, Tarago, Cobargo, Torrumbarry, Maraylya, Faulconbridge, Sherbrooke, Strathdickie, Linden, Kyogle, Little Hartley, Cattail, Bryon Bay, Murwillumbah, Evan Heads, Lismore, Grafton, Bowen Mountain, , Narooma, Albury and surrounding areas.