When renovating or building a property, water drainage is a significant concern that doesn't often come to mind immediately. However, water drainage and storage are key to ensuring that your building is safe from flooding, dangerous weather events and a range of other issues. This is where getting a detention tank is advisable. Read on to learn more about water detention tanks and why they are ideal for your property in the Sydney suburbs.
What are on-site detention tanks?
An on-site detention tank (or OSD) is a system designed to capture excess water on your premises before it gets sent to the council-operated drainage network. This helps to ensure that council drainage systems are not overwhelmed and remain safe in the event of flash flooding and adverse weather, as there is far more drainage capacity available.
What types of OSD are available?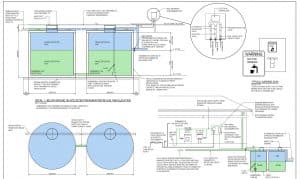 There are two different types of OSD available for installation. The first is in-situ OSDs, designed to be built on-site. You dig out the foundations of the tank before the concrete is poured in. This is a more expensive method as more staff are required on-site to ensure that the build process goes as smoothly as possible.
On the other hand, pre-fabricated tanks are made prior to their delivery to the site. These on-site detention tanks are built away from the site and are simply placed in the pre-excavated position ready to be plumbed into the system. This saves both time and money over the in-situ option.
How do I know when I need on-site detention tanks?
One key sign that you need stormwater detention tanks is that bad weather leads to flooding on almost every occasion. This is a clear sign that water on your premises is not being drained away in an appropriate manner. This could be due to your drainage system, or it could equally be down to the council network not being able to keep up.
In these cases, making use of an OSD means that any flood water on your property is collected and stored for a short period of time, only gradually joining the municipal drainage network. This means that your property isn't contributing to the overflowing of the drainage network and any floodwater on your property is captured and can't do any severe damage.
Talk to the team
For an OSD installation process you can trust, contact us today. If you are looking for a company that has the experience, knowledge and track record with onsite detention tanks, then call Rain Cycle on 1800 006 176 or visit us at: raincycle.com.au, We have 30 years of experience in onsite and rainwater tanks.
We cover all Sydney Suburbs, South Coast, Southern Highlands, Riverina, Laguna, Blue Mountains and Hawkesbury, Bateman's Bay, North and Mid North Coast, Nowra, Narooma, Balmoral, Mallacoota, Cobargo, Avondale, Glenn Ines, Glenmore, Tarago, Mogo, Albury, Faulconbridge, Maraylya, Torrumbarry, Sherbrooke, Little Hartley, Strathdickie, Linden, Bowen Mountain, Cattail, Kyogle, Bryon Bay, Murwillumbah, Lismore, Yamba, Grafton, Snowy Mountains, Evan Heads and the surrounding areas.