With increasing changes in weather conditions and environmental degradation, water conservation is becoming a serious concern right across the country. Rainwater harvesting is one viable solution to all our water shortages and related challenges. Quite simply, rainwater harvesting involves a series of activities, which includes; storing, collecting and using rainwater that runs off from rooftops, parks, roads, open grounds, etc. The water is collected using natural or manufactured catchment areas. This strategy offers a lot of benefits and is easy to install at an affordable rate.
Rainwater harvesting becomes not only useful, but also necessary in the following situations:
Increased water demand: An increase in population means an increase in the demand for water supply. Rainwater harvesting could be the key to such increase in demand.
Variations in water availability: In some places, although water is available during certain months, other months may see a lack of it. In those areas, it is best to use the rainwater, which is collected and stored.
Regions of water scarcity: In areas, where there is a chronic shortage of water supply, like many remote regional areas of Australia, rainwater harvesting can help increase the availability of water.
Environmental sustainability: Using run-off rainwater helps prevent flooding and conserve groundwater, thereby contributing to the protection of the environment.
Rainwater harvesting provides a variety of benefits such as: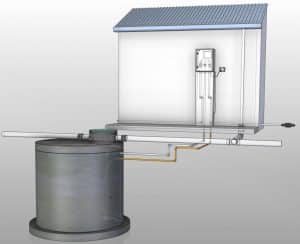 It's free to use and a clean source of water. You can reduce your water bills drastically using this technique.
 
The process of installing a rainwater harvesting system is very simple. Lifetime maintenance after installation is also quite minimal.
The water collected from rainwater harvesting can be used for many purposes, like drinking, gardening, cooking cleaning, etc.
You reduce your carbon footprint greatly by using this technique. Using rainwater which would have otherwise gone to waste is a sustainable way of conserving water.
It is a great alternative for agriculture. Since this water contains minimal toxins, it is great for agriculture and farming.
It reduces the use of groundwater. Groundwater may be the purest form of water, but is already becoming scarce. Using rainwater instead of groundwater can reduce its use and allow for its conservation.
At Rain Cycle, we are experienced in the installation and maintenance of rainwater harvesting systems for your homes and commercial properties. All our tanks and systems are manufactured with the highest standards, and are made right here in Australia. Furthermore, we can customise the size and shape of our tanks to fit your requirements. Talk to one of our experts, by calling us at 1800 006 176 or email us at sales@raincycle.com.au.
We know we can help with the right advice, a quote or information. You can also view our other large range of services at: www.raincycle.com.au.
We service Little Hartley, Glenn Ines, Albury, North and Mid North Coast, Southern Highlands, Bateman's Bay, Strathdickie, Blue Mountains, Mogo, Bryon Bay, Cobargo, South Coast, Sherbrooke, Murwillumbah, Laguna, Nowra, Avondale, Balmora, Riverina, Targao, Bowen Mountain, Evan Heads, Torrumbarry, Linden, Mallacoota, Lismore, Snowy Mountains, Glenmore, Yamba, Kyogle, Grafton, Maraylya, Faulconbridge, Cattail, Hawkesbury, Narooma and surrounding areas.