A common question we're often asked is if there's a way to combine your onsite detention tank and your rainwater tank, and there is! Let's find out more below.
What is an onsite detention tank?
An onsite detention tank is used for stormwater detention. It works by slowly draining water to the council stormwater system or a bigger draining system nearby. It's not a system that retains water for later use, it's simply designed to move water away from areas where it might prove to be a nuisance, such as around a house's foundations. This helps to protect the home from flooding which can ruin furniture and interfere with electricity supplies.
What is a rainwater tank?
A rainwater tank is a common feature in houses in both urban and rural Australia. It's responsible for lowering household bills by collecting fallen water to power washing machines, toilets and showers as well as water the plants in your garden. It's a natural resource that is collected outside in a tank, which is then connected to the main water supply inside the house. It has a roof and gutters, filters, pumps as well as a collection tank. With regular upkeep to ensure that there is no interference with pests, it's a great way to cut down on your carbon footprint.
What are the benefits of combining the two?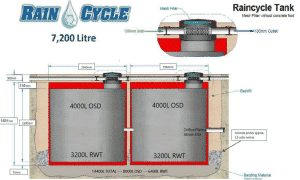 There are several benefits associated with combining both your onsite detention tank and your rainwater tank to create a singular entity, such as those available at Rain Cycle.
Saves wasted water
One major benefit of combining onsite detention and rainwater tanks is that it saves wasted water. This means that you can save money on your water bills every month by connecting the prefabricated underground concrete rectangle 10000L rainwater / onsite detention combo tank to the mains inside your house.
Takes up less garden space
Combo tanks take up less garden space. Rather than having both an onsite detention tank and a rainwater tank, why not combine the two so you have more space for the kids to enjoy? A combo tank collects both rain and stormwater and holds onto it rather than draining it so that it can be utilised as and when you like.
If you're looking for a company that has the experience, knowledge and track record with onsite detention tanks, then contact us at Rain Cycle on 1800 006 176 or visit us at: raincycle.com.au. We have 30 years of experience in onsite and rainwater tanks.
We cover all Sydney Suburbs, South Coast, Southern Highlands, Riverina, Laguna, the Blue Mountains and Hawkesbury, Bateman's Bay, North and Mid North Coast, Nowra, Narooma, Balmoral, Mallacoota, Cobargo, Avondale, Glenn Ines, Glenmore, Tarago, Mogo, Albury, Faulconbridge, Maraylya, Torrumbarry, Sherbrooke, Little Hartley, Strathdickie, Linden, Bowen Mountain, Cattail, Kyogle, Bryon Bay, Murwillumbah, Lismore, Yamba, Grafton, Snowy Mountains, Evan Heads and the surrounding areas.